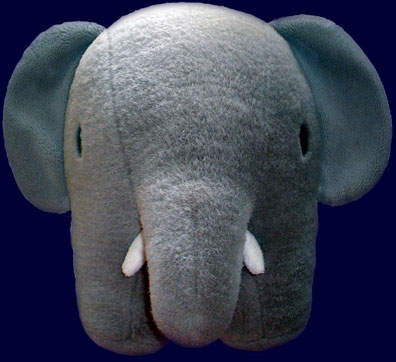 About Zousan.com
One lazy Sunday morning in May 2002, Zousan begged Kristen & Tod for a domain name. "Can I have a web page? Zousan.com sounds really smart, don't you think?" Unable to resist his sweet pleadings, Kristen & Tod signed him up.
The other Zous were mighty annoyed. "Why isn't it 'thezous.com'?" they demanded. "We want our own pages, too!" They were too late but Zousan offered them space on his page. And thus zousan.com was born.
Where to Find These Elephants
If you're wondering about the origin of the Zous, they are friends of Dick Bruna's Miffy; you should be able to find them where Miffy toys are sold. There's a Miffy specialty shop in Shibuya, Tokyo, and many department stores and boutiques here carry Miffy things. If you are a skilled web auction hunter, you may find them on Yahoo or Ebay. The elephants are manufactured by Sekiguchi.
Our Zous came one at a time: Zousan -Christmas 1998 (My City Shinjuku) ; Zousama - June 1999 (My City Shinjuku) ; Zoupi - August 1999 (KIddy Land, Omotesando); Zoukun - Feb 2000; three Kouzous - Summer 2001(Ginza).
Change Log
1 July 2003: Hamlet Act II, scene 2 premieres in the gallery.
3 April 2003: The Zous enjoyed Hanami; photos in the gallery.
20 February 2003: Launched shop at Cafepress. Get your Zousan t-shirts now.
20 February 2003: Four new postcard designs added to Zousan's Post Office.
19 February 2003: Added six new albums to the Gallery.
23 December 2002: Added At the Zoo to gallery; reorganized gallery; added "where to find these elephants" to About section.
30 November 2002: "Negazou" new year's cards added to Zousan's Post Office.
30 October 2002: Weblog converted to Moveable Type.
29 October 2002: New autumn card added to Zousan's Post Office.
15 August 2002: Zousan's Post Office. Send postcards to your friends and family. Privacy ensured; we have better things to do than to peek at your mail or collect addresses.
14 August 2002: Updated site design & added links to friends' sites.
11 August 2002: Zoupi's Belgian Holiday concludes. Final photos posted.
15 July 2002: Miki's Monkey joins the Friends page.
14 July 2002: Where's Zousama? Zousama gets in on the hide-and-seek act in this new game.
6 July 2002: Where's Zoupi? Zoupi is playing hide-and-seek. Can you find him?
10 June 2002: Zou Weblog begins.
25 May 2002: Zousan.com launches.
about zousan.com · mediatinker.com · distalzou.net
copyright 2002-2005 Kristen McQuillin